LinkedIn is the professional network with over 400+ million users.  alone has 2.6+ million professionals on LinkedIn. LinkedIn Ads is a great way for members and businesses to deliver compelling and relevant opportunities to LinkedIn members. You can show your ads to professionals based on: Location, Company Name, Company Size, Company Industry, Job Title, Job Function, Seniority, (CEO etc),Degree, Skills and more..
LinkedIn Promotions
 Acquire New Customers for your business
By job title and function
By industry and company size
By seniority
Pay by clicks or impressions
Stop your ads at any time
No long-term contracts
No commitments
3 Types of Promotions on LinkedIn
1. Sponsored Updates
Boost your company's content across all devices
Attract new followers to your Company or Showcase Page
Reach just the right audience with our comprehensive targeting options
Get your message out on every device: desktop, tablet, and mobile
2. Text Ads
Start generating leads in minutes
Add a compelling headline, description and even a 50×50 image
Choose your target audience with precision B2B filters
Set your own budget and measure performance in Campaign Manager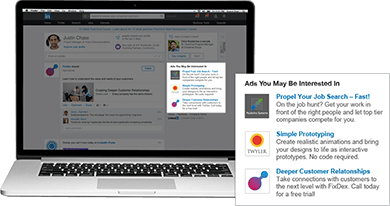 3. Sponsored InMail
Send personalized messages to the people who matter most to your business. With Sponsored LinkedIn InMails you can:
1. Boost registrations with personalized invites to business events. 2. Drive conversions with targeted product and service. 3 Promote content downloads of infographics, white papers& more

4. LinkedIn Lead Ads
This is similar to Facebook lead ads, where user can see your sponsored content in their news feed, and just click submit is the action. No need for website visits, filling out forms.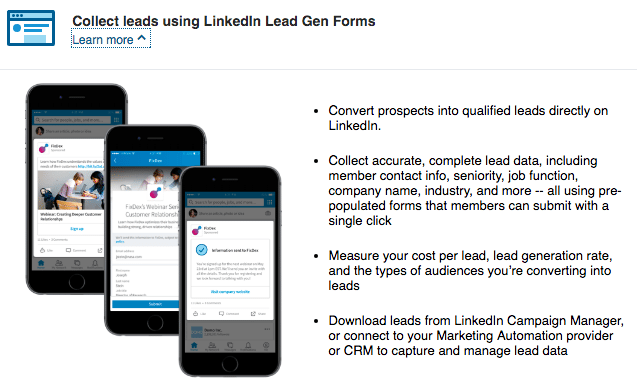 If you want to reach out to used on their professions and the type of company. LinkedIn can help you get qualified traffic. 
Telelookz is a Lead Generation Company. Contact us to discuss your marketing goals. Call us now at +97431421659..
You can simply mail us at  premsundarj@telelookz.com
s